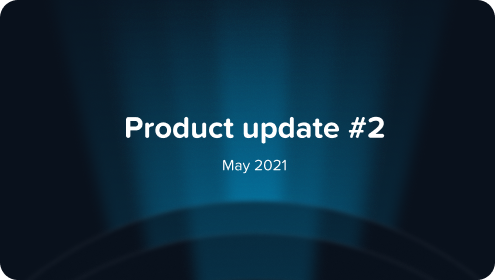 A summary of new LinkedHub features, improvements, and news.
Account manager
We redesigned the account manager so it is easier to navigate. You can now view all your accounts at once, see a visual indicator if an API key needs updating, and click the alert to use our guided API key finder.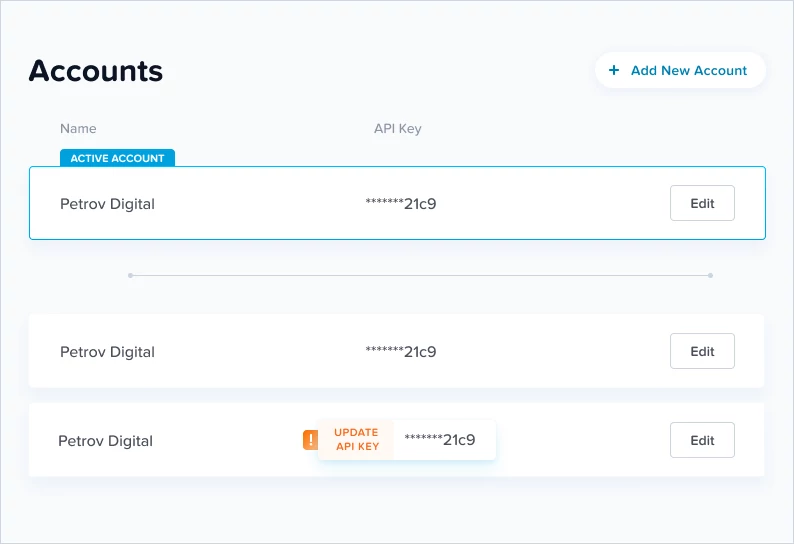 Message sync countdown
This is the first feature to hit our beta page. The message sync countdown provides a timer and progress bar to indicate when messages sync. Some customers are understandably confused as to when this happens.
We have a system that syncs all your messages automatically but this has a random nature to it for privacy reasons. By enabling this feature you always know when the next message sync takes place. Instantly syncing messages is still possible by clicking the update/sync button found on any LinkedIn profile.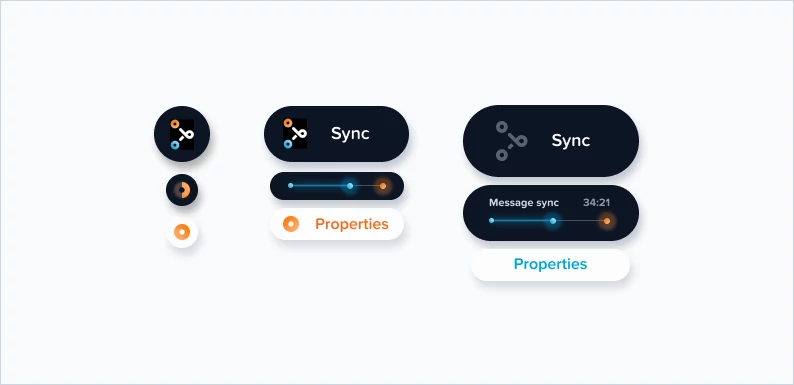 Small size, responds to left and right, and connects to LinkedON.
Some customers requested smaller buttons that took up less space inside of LinkedIn. This is now delivered. Switch between the original and smaller size of buttons by mouse hovering the sync button and clicking the small circle/oval icon that appears. The buttons also respond to the left/right side of the screen.
Other improvements include the ability for the LinkedHub and LinkedON buttons to connect with each other. This allows them to be easily moved and controlled as one.
LinkedON is a message automation tool. If interested you can find it here: linkedon.io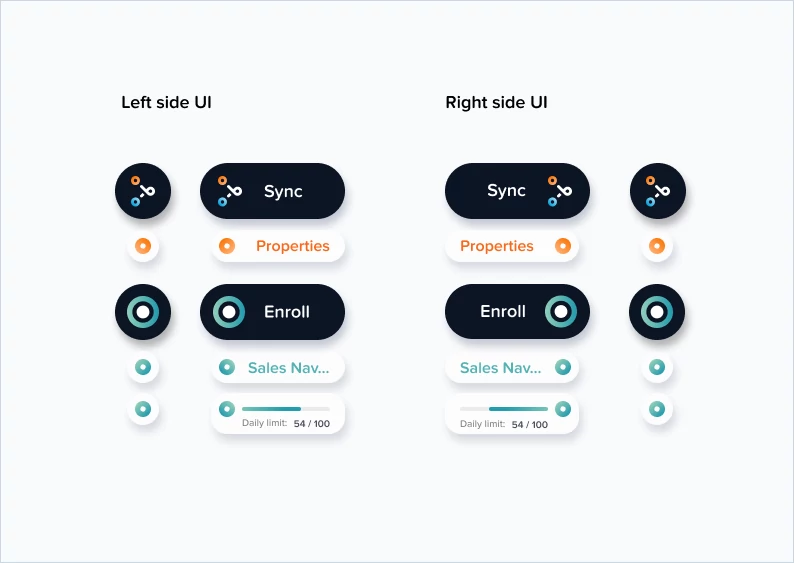 Autofill control
Moving information into HubSpot is usually straight forward. The first name from LinkedIn goes into the HubSpot property titled first name. But there are times when you need more control. You may want the first name to go into a custom property titled 'LinkedIn first name'. This problem is now solved with autofill control.
Go to the LinkedHub properties sidepanel > select edit. Beneath each property you will now find an autofill dropdown > use this button to decide what information from LinkedIn automatically fills this property.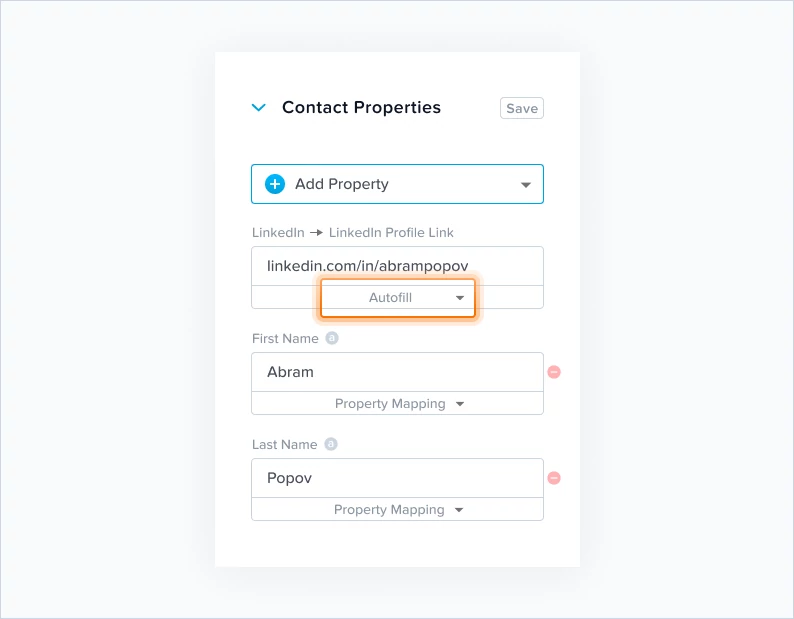 Read only properties
Properties like 'Last Modified Date' can now be viewed within LinkedHub. These properties are controlled by HubSpot, so they can't be edited but viewing them may be helpful. It is now possible to add these read-only properties to LinkedHub.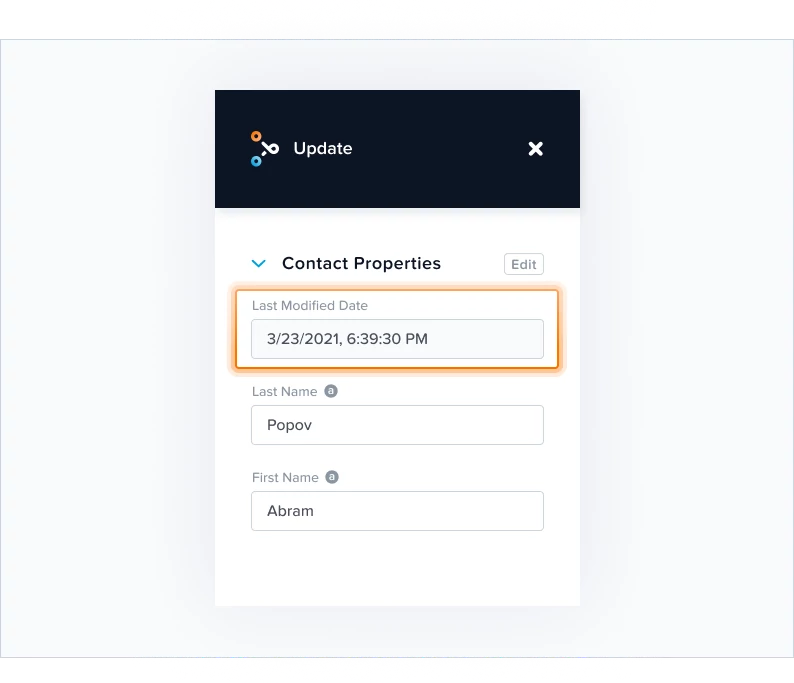 Free discovery, free verification, and simplification.
Lots of settings and options may seem nice but at the end of the day we all just want verified emails. To this end LinkedHub now comes equipped with an email discovery and verification service built-in. This removes the need to jump around to different services and copy/paste API keys unless you want a more advanced configuration.
You can now use the email discovery feature from the moment you install LinkedHub, without any setup. To send discovered emails through an extra round of verification, turn on the verify toggle.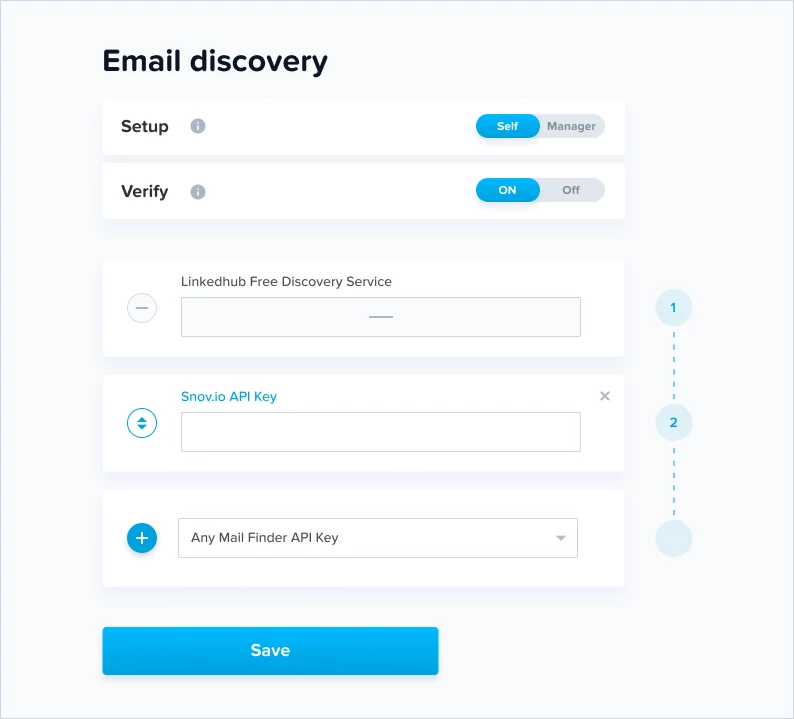 Small redesign & invite notifications
We moved the 'Add team member' button to the top of the page. We have many customers with large teams and having to scroll to the bottom of the page becomes troublesome. This also brings it inline with the design standard on the accounts page.
After clicking the 'Add team member' button there is now a notification option. You can decide to send new team members a LinkedIn message and/or email notifying them about their invitation with a link to install the product.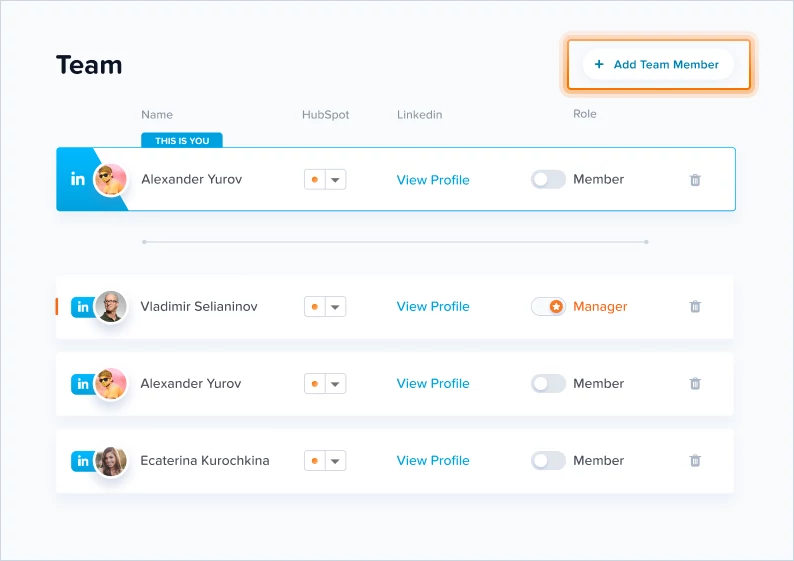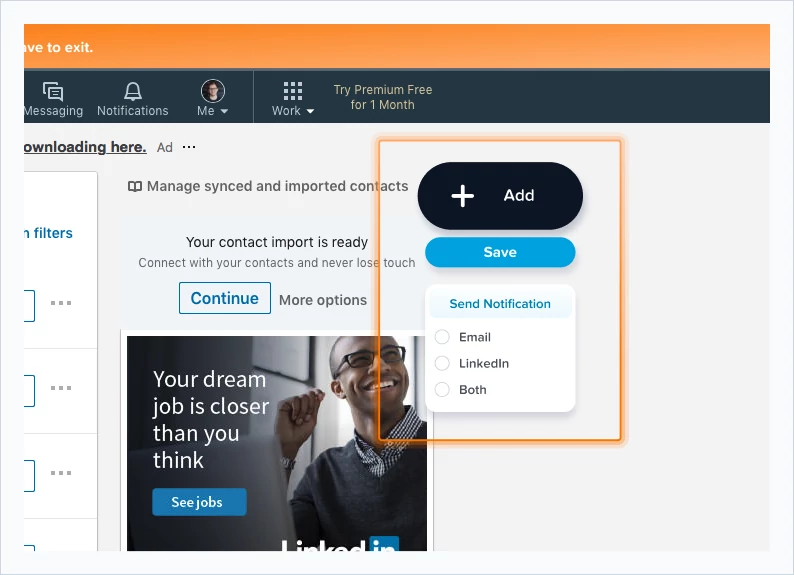 Unsync contacts
It is now possible to reset your contact count to zero on the first of each month. If you reached your contact limit, simply wait until the start of next month and you can start syncing again if this option is turned on.
*Resetting your contact limit to zero is accomplished by unsyncing all your contacts. Here is the difference between a synced and non-synced contact.
Synced: A contact with a persistent connection between LinkedIn and HubSpot. This allows new information, including messages, to flow into your HubSpot.
Non-synced: A regular contact inside of HubSpot with no connection to LinkedIn. This contact and all it's information, even information originally supplied by LinkedHub, belongs to you. LinkedHub will never remove information from your HubSpot; it simply will not update the contact with new information.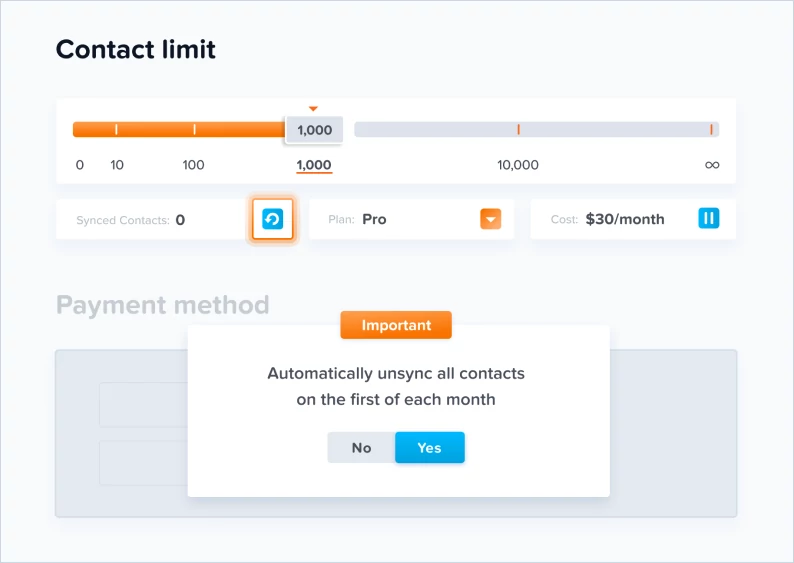 Downgrade option
You can now downgrade your plan.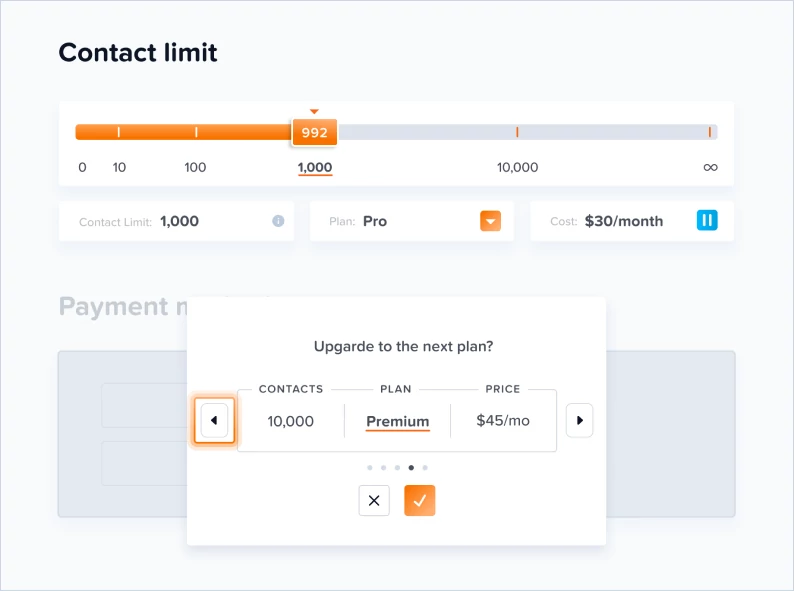 Beta page
The beta page is a brand new addition to LinkedHub. Experimental new features will be released in this section. You will find a description of the feature, a visual depiction when possible, the ability to turn it on/off, and an option to leave feedback.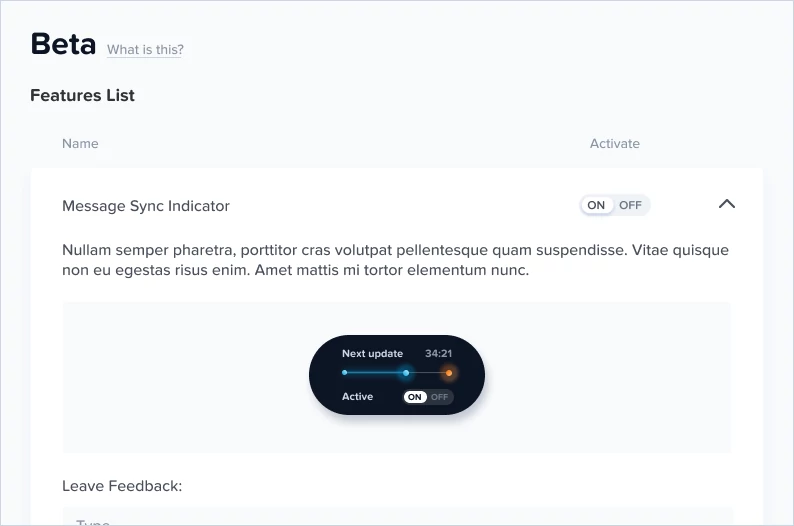 LinkedHub the Game!
Congratulations to the few people who have found the easter egg on our website, unlocked LinkedHub the Game, and shared your positive feedback. There may be a special prize in the future for those with a high score. I wouldn't want anyone to miss out, so here is your announcement: LinkedHub the game exists. I hope you find it and score big. Best of luck!